We'd like to congratulate and spotlight our Provider of the Month contest winner, Carol McClure of Carol's Playcare. Carol runs a family child care primarily for infants and toddlers, and we chose her because of the outstanding way she communicates with parents, her clear dedication to and knowledge of licensing regulations, and the professional and organized impression she gives on her website. From one look at Carol's website, it is obvious that she loves what she does, and she is dedicated to constantly educating herself and giving quality care to children. We wanted to get to know Carol a little better, so we've asked her some questions about how she runs her business, and here are her answers!
How did you come to be a child care provider?
When my son was little I worked in a major insurance company's home office and commuted an hour each way to work, schlepping him along with me. Then the company consolidated out of state and being unable to move with them, I began to work from home and moonlighted in the local school district as a lunch/yard aide which awakened a passion I never knew existed. When my daughter came along, working outside the home was not an option, but I really loved working at the school. So, I opened my daycare and brought the kids to me.
What is your favorite thing about being a child care provider?
Being self-employed and setting the program myself. I love the freedom to change things up at my discretion or as the kids' needs ebb & flow, which, with babies and toddlers, can be daily! There is no way I could ever go back to the corporate world with managers and meetings, etc!
What is the biggest challenge for you in running a home daycare?
The fluctuation in income. Just when I think I am full for the long term, life happens and shakes things up.
You put a lot of emphasis on clear communication with parents. How has this helped you in running your business and in caring for the children?
First, I would never leave my child, or allow them to go, anywhere without fully knowing the who what when where how and why's. Second, I raised my kids on the rule of "Never assume anything—to do so is to make a you-know-what out of you and me".
In my business most of my clients come in as strangers – I don't know them & they don't know me. Many times they need Care yesterday so there isn't much opportunity to "date" or get to know each other thoroughly beforehand. So I find it easiest and more beneficial to just cut to the chase and lay it all on the line up front – this is what we all need to know & expect from each other and what will be expected back. Vagueness and assumption are guaranteed to kill the best intentions as well as break your heart.
Think about it, ALL money exchanges and transfers of important/valuable goods require a clear understanding of the transaction taking place. If getting your car tires rotated requires a service agreement, why not Child Care? — both the parents and I have certain responsibilities & obligations, therefore it is simply good business sense and responsible parenting to spell out and agree upon in advance the costs, limits, terms & conditions of the Care services being contracted. Why should I accept clients, and why would a client choose me, with anything less?
For my website, parents can get to know me before meeting me and the interview usually goes smoother.
For paperwork, I found that following Tom Copeland's advice on separating handbook policies and contract terms is right on target – it conveys professionalism, garners respect, and weeds out potential problems before they start.
And by spelling everything out in a clear yet friendly conversational manner, the information soaks in faster and deeper. I simply communicate the way I would want someone to communicate with me
It's obvious that you are very educated about child care. How do you keep abreast of all of the latest rules, research, and news?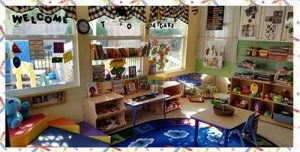 Lots of reading! Years ago I bought every Tom Copeland book off eBay that I could find. Now I follow his blogs through NAFCC. Also I have had a lot of great training through the STEP program from the LA County Office of Child Care (LACOCC) and the Child Care Resource Center (CCRC), CCRC's Gateways program, the RTT-ECL program also through LACOCC and CCRC, and the Community Care Licensing (CCL) website online has wonderful quarterly newsletters.
In your years as a child care provider, what is one thing you've learned that you think other providers might benefit from?
2 things, can't do just one! Get a good contract and handbook — Know the difference between them! And do not be afraid to say 'no' no matter how much you need the income – a good fit between client and provider is more than worth its weight in gold.
You can check out Carol's website here: